DRCSC, Working on Sustainable Agriculture Practices and Methods since 1982!
Environment Education and Child Rights Programme
Celebration of World Environment Day 5th June, 2017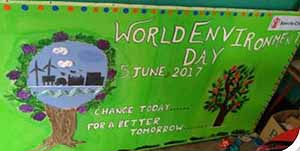 Organised by: Development Research Communication and Services Centre(DRCSC)
Supported by: Save the Children
Venue: Wahed Memorial School and Indira Gandhi Child Welfare Society,
Palm Avenue,Kolkata
Chief Guest-Councillor Nibedita Sharma and Ex-Councillor Sushil Sharma and members from Save the Children and DRCSC
Theme-Go Green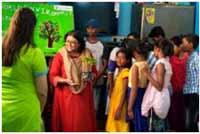 As a part of our Disaster Risk Reduction project,World Environment Day was celebrated on 5th June in Wahed Memorial G.S.F.P School at 11:00 a m. DRCSC started the program by short speech by the Headmaster of Wadeed Memorial School about the importance of world environment day.

The theme: Each World Environment Day is organized around a theme that focuses attention on a particularly pressing environmental concern. The theme for 2017 is connecting people to nature.


We have distributed 20 saplings to the school children of which 5 were planted during the programme. It was adviced to the children to spread the awareness of planting trees. The programme was concluded by distributing chocolates among the school children.

World Environment Day was also celebrated in Indira Gandhi Children Welfare Society, Palm Avenue,Kolkata at 1:30pm in collaboration with Save the Children. The guests were Ms Nibedita Sharma, Councilor and Mr SushilSharma, Formar Councilor of ward no.65 in KMC. Apart from these, representatives from Save the Children and DRCSC were also present in that programme.

In the beginning, Kunal Das, a child champion,invited the Formar Councillor Mr Sushil Sharma to give a speech on environment Day. Mr Sushil Sharma said 'we need to plant trees as they give oxygen and it helps us to stay healthy'. Mr Sushil Sharma gave few tips to keep the environment safe such as throwing waste only in dustbins, using less plastic bags as they help in safeguarding the environment.